Waterproof Flooring in Lititz, PA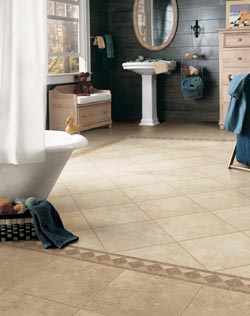 Choose the perfect flooring for your busy home when you shop at our local showroom. With our selection of waterproof flooring in Lititz, PA, you will find the right option to enhance the look of your home without needing regular upkeep. Shop with us today to learn why waterproof luxury vinyl planks and carpeting are the preferred option for homeowners throughout the area.
Durable Waterproof Floors
Avoid the need for repairs and maintenance when you shop with us for your waterproof flooring. Our carpet, plank, and vinyl options are ideal for spaces of any size. No matter what part of your home you are looking to transform, you are sure to find something you love when you shop with us. Our inventory includes options from some of the top brands in the industry, including Downs H20 and Tigressa H20.
Add the look of hardwood floors to your living space without potential water damage. Bathrooms, basements, and other moisture-prone areas require a sturdier flooring material. By choosing waterproof vinyl flooring for your rooms, you will avoid stains, warps, and other common issues caused by moisture.
Choose Waterproof Vinyl or Carpet Flooring
Busy households with pets or children sustain a lot of potential damage. By choosing our waterproof carpet or vinyl, you will never have to deal with issues caused by heavy foot traffic or spills. No matter what you spill on your waterproof floors, you will be able to clean your flooring with ease.
With the waterproof carpet and vinyl varieties from our showroom, you can select the perfect flooring for your home. Our in-stock varieties include products from some of the leading brands in the industry today. These products are made with a unique construction that makes them able to prevent liquids from soaking into carpet padding and the subfloor. Whether you frequently deal with pet stains, spilled juices, or other messes, waterproof flooring is the right option for you.
Complete Waterproof Flooring Installation
Once you have chosen the right material for your space, we are here to finish the job for you. Our waterproof flooring installation services are available for rooms of all sizes. We work quickly and efficiently to create a lasting setup for your home.

Contact us to shop our selection of waterproof flooring for your home. We feature waterproof luxury vinyl planks and other materials throughout Hershey, Elizabethtown, Reading, Marietta, and Lititz, Pennsylvania.