Beautiful & Durable Tile For Your Home
Upgrade your floors with brand-new tile floors. At Cloister's Flooring America, we offer a wide selection of tile flooring that not only fits your style, but your budget too! Created in various designs and patterns, our tile selection is moisture-resistant, easily maintained, durable, and long-lasting - making it the ideal choice for any home or business. At our showroom in Lititz, PA, you can view our assortment of quality tile options, including porcelain, ceramic, and stone tile. Each type of tile has unique properties, and we are happy to help you make the right decision for your floors!
From selection to measurements and installation, we offer help through it all. With our help, you can upgrade to a tile product from top-quality brands and manufacturers that don't demand daily attention and look brand new for years. Once you select your new tile flooring, leave the rest to us. We are confident that you will find your perfect flooring!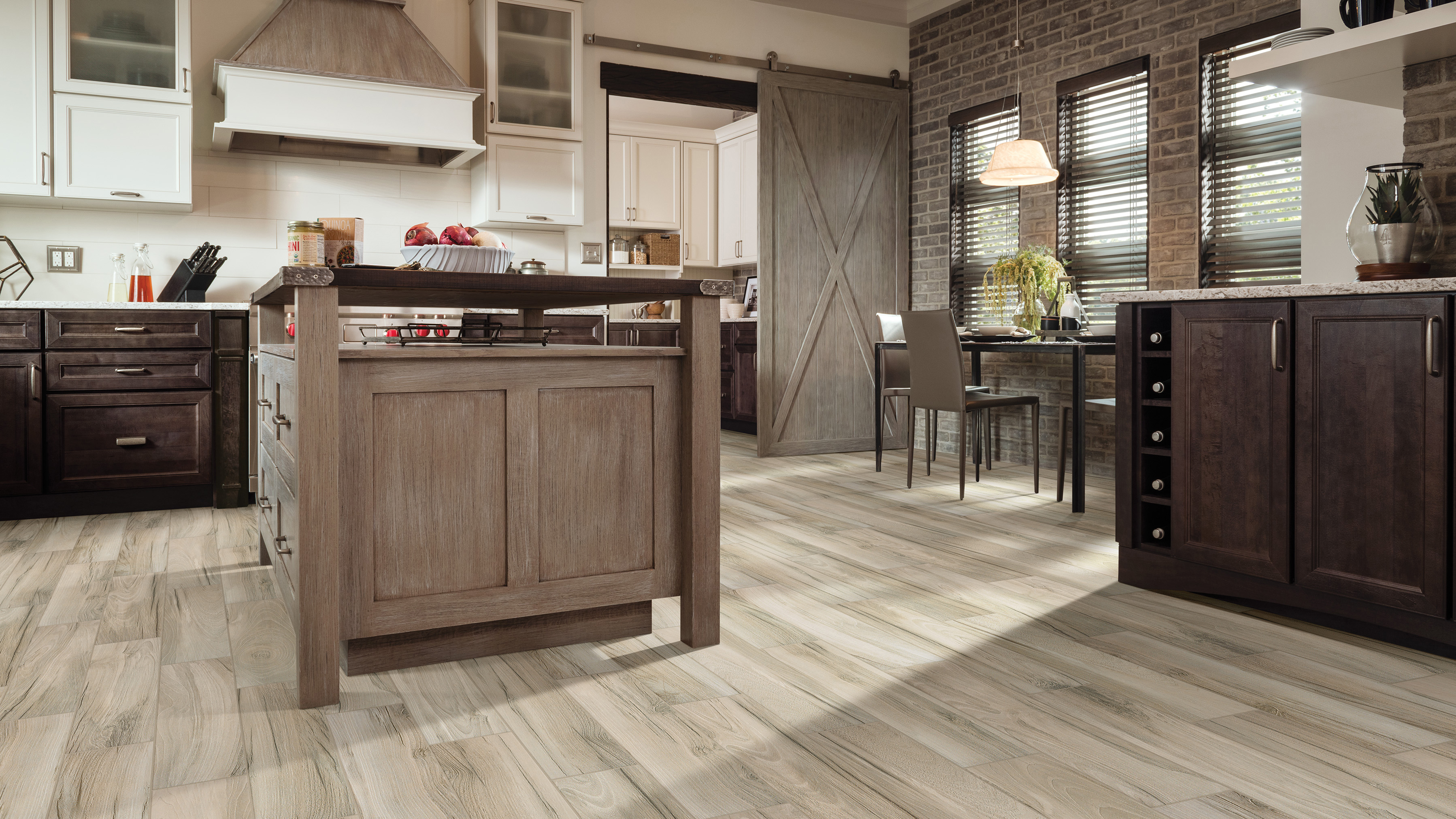 Our Tile Flooring Selection
Discover the variety of tile flooring options we carry in our showroom. You can choose from porcelain, ceramic, and stone tile. Our tile options are resistant to heat, moisture, scratching, and stains. Tile is the best flooring choice for fully customizable projects and is great for floors, backsplashes, and even patios. You can choose from various patterns and designs in light and dark variations, differing grains, or tiles that are in a marble or wood appearance. While other flooring choices, such as carpet and hardwood, are limited to interior design, tile is adaptable and can be used outdoors too. Learn about our different tile types: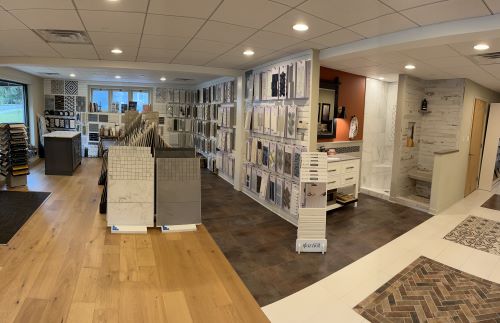 Ceramic tile

is made of clays that are fired extra hot. This glazed tile is easy to clean, durable, and can mimic natural wood and stone. Consider a textured ceramic tile if you have pets or kids. There are endless patterns and finishes to consider.

Porcelain tile

is a denser variety of ceramic. Because of its enduring strength, porcelain is famous in commercial settings and bathrooms. It resists significant moisture and comes in endless styles. Choose porcelain tile that mimics hardwood or washed cement; trendy patterns are available.

Stone tile

is made from organic minerals like granite and marble. It's perfect for kitchens, bathrooms, entryways, and outdoor paces. No two stones are alike, so choosing stone tile means your new installation will be distinctively yours. Stone tile adds value to your home and will last for generations.
Durable Wood-Look Tile Floors
Hardwood flooring has been a popular flooring choice for a long time. Now, you can have floors that look like natural hardwood but maintain tile strength with our selection of beautiful wood-look tile. Genuine wood planks are sure to warp when they come into contact with any moisture, but wood-look tile's advantage is that it does not get damaged when it comes in contact with water. Due to this, wood-look tile is perfect for bathrooms, kitchens, laundry rooms, and any other spaces in your home or business that have high moisture levels. With its wood plank style, wood-look tile can appear in well-known wood species such as mahogany, oak, pine, and more. The solid surface of the wood-look tile repels dirt, dust, water, and other stains. This makes cleanup easy and quick, saving time and energy for what matters most!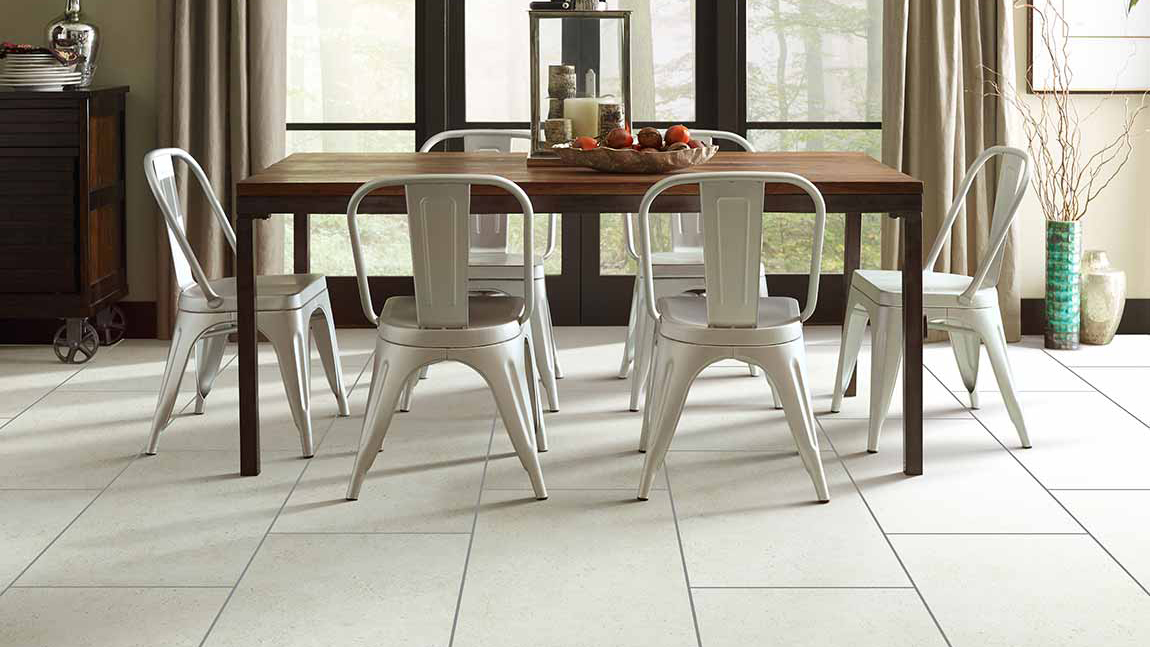 Cleaning Tile Floors Made Simple
Homes with active families and pets will benefit from how easy it is to clean and maintain tile flooring. Tile floor repels allergens, pollen, and dander, providing seasonal relief. Standard cleaning can be done with a weekly wet mop and regular sweeping or vacuuming. For a heavy-duty clean, strong solution all-purpose cleaner can be used on glazed tiles, while unglazed tiles can be treated with paste, water, and scouring powder. We recommend consulting your tile's warranty before using cleaners with harsh chemicals, as they could damage your tile's finish.
Professional Tile Flooring Installation
Every floor is only as good as the work that went into installing it. When you rely on our team of professionals, you receive high quality and endurance for your floors. Homeowners and business owners choose to work with us for their flooring installation because of our professional installers' experience, attention to detail, and efficiency. So, when you want your tile flooring to be installed perfectly and quickly the first time, let us be the ones to do it.
When you trust us with your flooring installation, we promise to install a long-lasting tile floor whose beauty can withstand the test of time. Trust our experts to use the best care and installation methods. Industry-leading warranties, including our Ultimate Confidence Guarantee covers our tile products.


Contact us today to learn more about our tile flooring selection. We proudly serve customers in Lititz, Hershey, Elizabethtown, Reading, Marietta, PA, and the surrounding communities.