Breathe New Life Into Your Home with Durable Luxury Vinyl Flooring
When you're looking for a cost-effective flooring material that's just as versatile as it is durable, come to Cloister's Flooring America and browse our selection of luxury vinyl flooring. We are proud to be the Lititz area's most recommended flooring showroom and flooring installation technicians. We proudly offer a full selection of luxury vinyl tiles, planks, and traditional vinyl sheet flooring that are great for any room in your home. Whether you are looking to improve your kitchen's style or are simply installing new flooring in your bathroom, luxury vinyl flooring is a quality investment that lasts. Visit our Lititz, PA, showroom to start your luxury vinyl flooring renovation with the help of our friendly flooring professionals!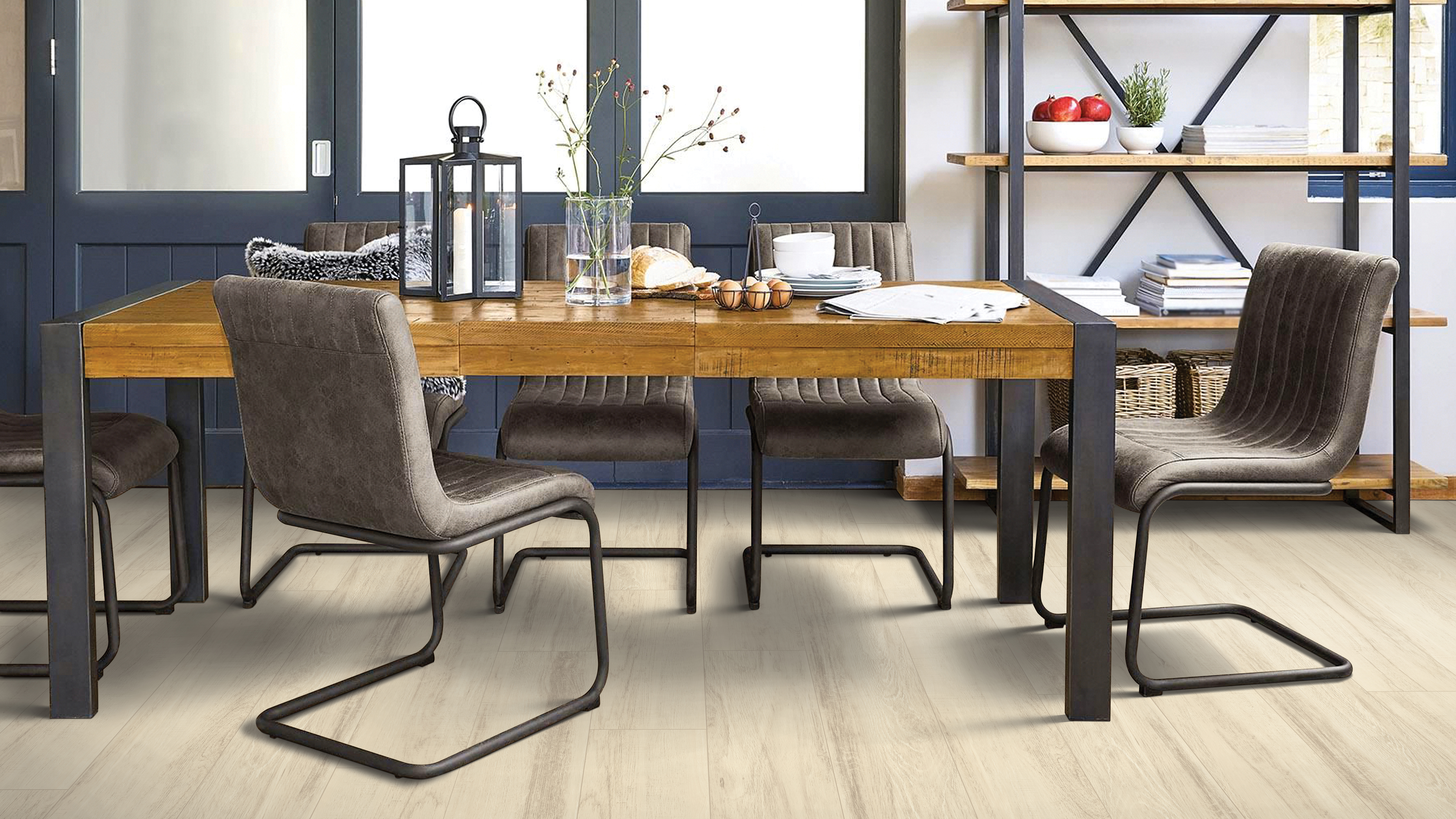 Your Guide to the Types of Luxury Vinyl Flooring
Whether you are looking for luxury vinyl tile (LVT) or luxury vinyl plank (LVP), our showroom has the perfect flooring for you. Before choosing a type of luxury vinyl flooring, it is important to understand the differences between your options. Learn more about our luxury vinyl selection:
Luxury Vinyl Tile (LVT)
Luxury vinyl tile replicates the look of ceramic, porcelain, or stone tile with a much more comfortable and soft feeling underfoot. Its waterproof composition makes luxury vinyl tile ideal for bathrooms, kitchens, and other moisture-prone areas. Easier to install than true tile, grouting is not required for LVT. While many choose LVT for a porcelain, ceramic, or marble look, wood-look LVT is also available.
Luxury Vinyl Plank (LVP)
Luxury vinyl plank is the ideal flooring type for those looking to create a genuine hardwood floor look at a more budget-friendly cost. LVP has a softer feeling underfoot than natural hardwood and can tolerate spills, heat, and foot traffic that can cause wood floors to warp. The top layer of LVP is formed using advanced photographic technology, which results in a beautiful decorative layer that draws attention with its authentic-looking whirls and grain patterns.
Sheet Vinyl
Just as its name suggests, sheet vinyl flooring comes in large sheets for a seamless installation. This type of flooring is the most durable and waterproof luxury vinyl option available at our Lititz showroom and is very popular for commercial spaces. Not only is it exceptionally durable, but sheet vinyl flooring also comes in a variety of beautiful patterns and colors to perfectly complement your interior design.
The Luxury Vinyl Advantage
Luxury vinyl flooring brings your home design goals to life all at an affordable cost. At Cloister's Flooring America, we work hard to bring our customers superior products that look great and last. That's why we proudly partner with industry-leading luxury vinyl brands including Downs, Galvanite, Genua, Spotlight, and much more. Learn about all the advantages of choosing luxury vinyl flooring for your home:
Matches any interior design with a variety of finishes, shapes, textures, and sizes.

Realistically mimics the look and texture of real wood, tile, or stone.

Offers a comfortable, resilient feeling underfoot that's built to withstand heavy traffic.

Resists the effects of scratches, dents, fading, and spills.

Easy to keep clean and maintain.

Kid proof, pet proof, and oops proof durability.

Quick and efficient installation with our professional installers.

Luxury vinyl options to meet any budget.

Low-Maintenance Cleaning with Waterproof Luxury Vinyl Floors
Our luxury vinyl flooring can withstand a great deal of wear and tear, making it perfect for active households with children and pets. Additionally, luxury vinyl is a waterproof solution that performs well in high-moisture areas such as bathrooms and laundry rooms. This makes spills and liquids easy to clean. Grime and scratches are no match for all of our luxury vinyl flooring options as they are built with enhanced urethane. Created with everyday usage in mind, its surface repels dirt, dust, and stains. To keep your floors clean, follow these simple luxury vinyl flooring care tips:
Most spills only require a mild cleaner and a damp cloth.

Weekly cleaning can be accomplished by sweeping, vacuuming, or mopping.

Before using a cleaning product, we recommend reading your new floor's warranty or asking a flooring professional to avoid damage from harsh chemicals.
Luxury Vinyl Flooring Installation with Our Experts
At Cloister Flooring America, our priority is to create a pleasing shopping experience from start to finish. Once you've decided which type of luxury vinyl flooring works best for your home, we can take care of the rest. With our professional luxury vinyl installation services, you can be confident that your new flooring will be correctly installed for optimal attractiveness and product longevity. Our team displays a proven track record of success, backed by some of the best warranties in the industry, including our Ultimate Confidence Guarantee. Should you find yourself unhappy with our work or your new floor, give us a call within 30 days of your installation and we will gladly replace your floors with a similar model at no additional charge to you.
Contact us to learn more about our luxury vinyl flooring selection. We proudly serve customers in Lititz, PA, and the surrounding communities.