Hardwood Flooring in Lititz, PA
Hardwood floors are a timeless flooring solution that adds inviting natural warmth to your home. Here at Cloister's Flooring America, we offer a large selection of beautiful and durable hardwood flooring options at our showroom in Lititz, PA. Our variety of wood species, grain patterns, and plank hues allow you to create the open and inviting atmosphere you deserve by installing hardwood flooring in your home. Hardwood flooring will never go out of style, and it can add character and elegance to even the most basic room in your home.
As a local flooring store and an affiliate of Flooring America, we offer our customers the best prices from the best quality brands in the flooring industry. These brands include Aquadura, Baroque Flooring, Spotlight Values, Downs, Floorcraft, and many more. We know deciding which hardwood flooring type to purchase is hard, especially with all of the appealing hardwood styles and species to choose from. Hardwood floors can completely transform any space, and when you trust our associates to help you find the perfect product for your home. We take your design preferences and performance needs into account. Stop by our expansive showroom today to get started.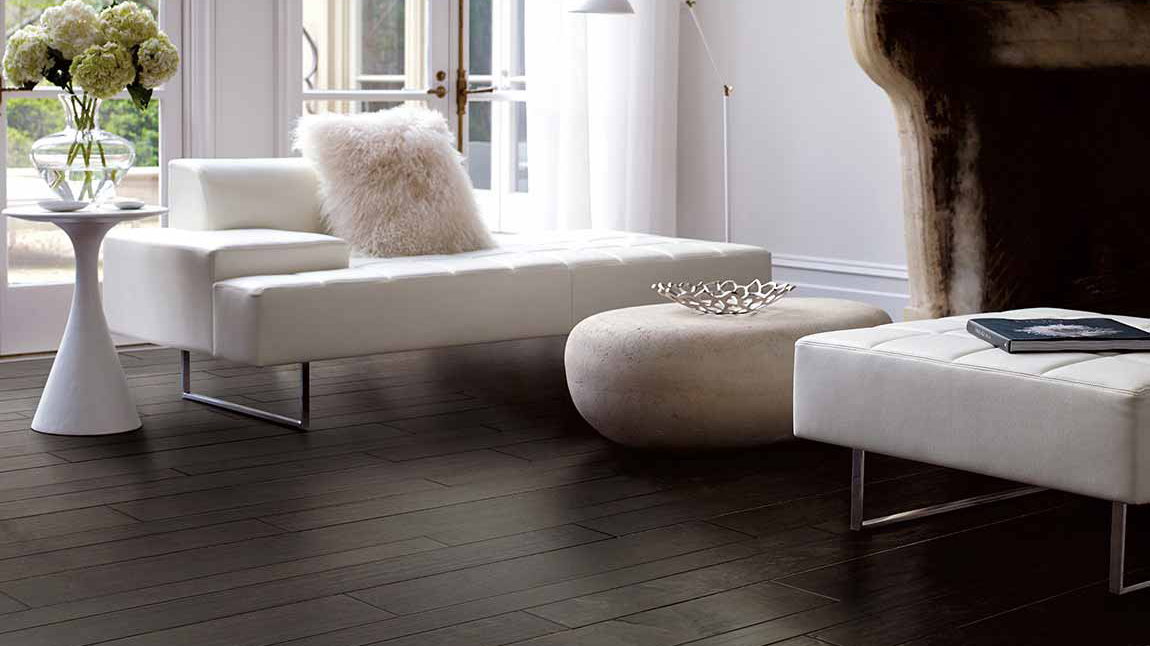 Solid Vs. Engineered Hardwood Flooring
Hardwood flooring is well-known for being attention-grabbing and long-lasting. There are two types of hardwood flooring: solid and engineered. Solid hardwood and engineered hardwood look exactly alike. Looks can be deceiving, though, because the two perform very differently. Both types of hardwood have their advantages and could be a great addition to your home. Learn more about solid and engineered hardwood: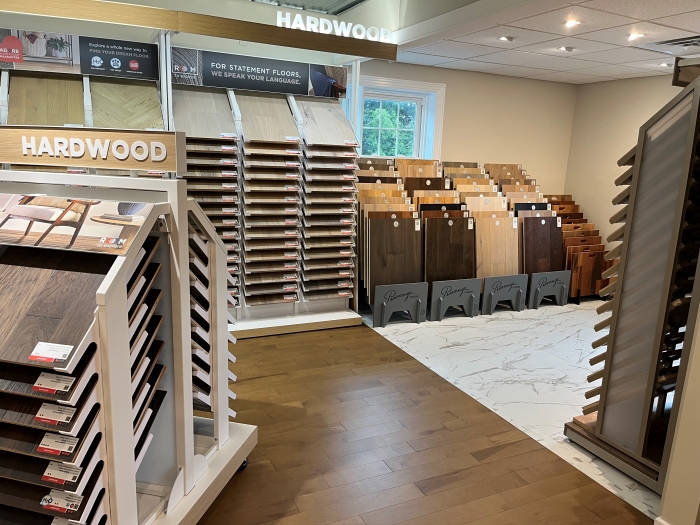 Solid hardwood

is sold as planks that are one genuine piece of hardwood and offers the most natural appearance. Thicker in construction, solid wood is a sturdy flooring choice that can be given a satin, matte, or gloss finish, depending on your preferences. Solid hardwood can last a lifetime and is perfect for bedrooms, living rooms, dining rooms, and hallways with proper care.

Engineered hardwood

is made from three or more layers of wood, with the final product being cross-directionally laminated and fused with a top layer of premium hardwood veneer. It is more resistant to moisture, water, and humidity than solid hardwood, which makes it perfect for below-grade installations where dampness is common. It is a great choice for kitchens, bathrooms, and basements.
The Many Benefits of Hardwood Flooring
Hardwood flooring has so many amazing benefits that help improve the value of your home and your quality of life. These great benefits include the following:
Enhances the look and feel of your home by adding

a touch of elegance

.

Low maintenance and

easy to keep clean

.

Adds value

to your home.

Solid

and

durable

, meaning it can last for decades and is an excellent

long-term investment

.

Helps improve interior

air quality

.

Looks

great with any decor

style.

Comes in

various appearances

, colors, styles, stains, and species.

Improves acoustics

in your space.

Keeping Your Hardwood Floors Like-New
Keeping your hardwood floors clean and looking brand new for years to come is easy! The Franklin area experiences a lot of humidity throughout the year, especially in the summer, so you must prepare your new hardwood floors accordingly. Before using any hardwood cleaning products, consult your floor's warranty to ensure you are using a product that won't harm your hardwood flooring. We are always happy to make a cleaning product recommendation! Take these steps to ensure your new wood floors are pristine:
Regularly

sweep or vacuum.

Dry mop to remove any excess dirt and debris.

For a

deeper clean

, use a soap and water mixture when mopping.

Use a wood polish every 2-4 months for

extra shiny floors

.

Consider purchasing a dehumidifier to help prevent your wood floors from expanding and contracting due to moisture.
Professional Hardwood Flooring Installation
Once you've selected the perfect hardwood floor for your home, you can count on our team of expert installers to help with the final installation. When installing your new hardwood floors, you won't risk your investment in an inexperienced installer's mistakes. Our team of professionals can provide a smooth installation and work around your schedule. Thanks to their brand awareness and product experience, they'll come prepared with the right tools and expertise to ensure a quick installation that will make your floors last for years to come.
If for any reason, you are unhappy with your floors within 30 days of their installation, we will replace your floors with a product of similar value for free. This is our Ultimate Confidence Guarantee, a promise to you that the best warranties back your floors. Your satisfaction and happiness regarding your new floors are very important to us!


Contact us to learn more about why our hardwood flooring is the right choice for your home. We proudly serve customers in Lititz, Hershey, Elizabethtown, Reading, and Marietta, PA.