Ceramic Tile Flooring in Lititz, PA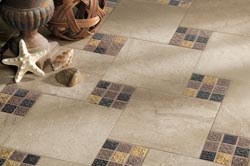 Need to replace a worn and outdated floor? Our ceramic tile flooring is beautiful, versatile enough for any home, and cost-effective in pricing. Ceramic tile, especially when finished with sealant, is one of the longest-lasting floors around. Like other tiles, ceramic doesn't absorb water, which makes it a popular choice for bathrooms and kitchens. It becomes virtually invulnerable to water damage when you install grout along with it, which we can advise you on.
Our ceramic tile floor collections withstand all manner of spills and splashes. Our skilled flooring experts can educate you on all the different options available and help you select the best material for your needs in looks and performance. We specialize in home floors and floor coverings, so you know you're getting the most professional knowledge and recommendations. We only stock the best quality for our customers and stand by what we sell. Our fade, wear, and stain warranties last as long as 25 years, so you can be completely confident in having our ceramic tile flooring installation last for many years to come.
Our Ceramic Tile Floor Is Everything You Could Want
In addition to its stunning appearance, this flooring is easy to care for. Ceramic tile floor maintenance is super easy. All you have to do is clean it regularly with a damp mop. With a little routine care, it maintains its structural integrity for years. This is invaluable for busy families with children and pets.
Another benefit of ceramic is its versatility in design. We can make tiles any way you like, and the appearance looks great and lasts long. Customize the texture, shape, size, and color for a floor that's uniquely yours. No matter what your tastes and existing décor are like, we've got the material to match it. Tile can go in your dining room, living room, or just about anywhere else. It complements wood and carpet too, so you can mix and match different styles. You decide what you want and where it goes, and we'll take it from there.
Professional-Quality Ceramic Tile Flooring Installation
We not only lend you our expertise for buying your floor; we help you bring it home too. Our ceramic tile flooring installation team is happy to lay down your floors for you so they can start off on the right foot and last their expected lifetime. An inexperienced hand could end up costing you more money in expensive repairs and renting equipment. When you choose our certified contractors, you get a complete and permanent job at a much higher standard and lower overall cost. The work will be done faster, and completed correctly the first time.
Our team is with you from when you walk into our flooring showroom to the finishing touches on your installation job. Feel free to ask any questions along the way and depend on us for any guidance you may need in your renovation project. Get started today with our free consultation. We'll let you know what flooring material is your best option and give you an idea of how much you need. You can't go wrong when you shop with us.
Contact us to learn more about our stunning ceramic tile. We sell and install tile for homeowners in Lititz, Hershey, Elizabethtown, Reading, and Marietta, Pennsylvania, and surrounding areas.